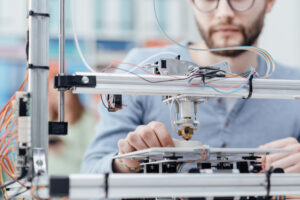 Additive Manufacturing (AM), also known colloquially as 3D Printing, is a disruptive technology that has received significant attention in recent years both in the media and the manufacturing industry. While the current and potential future applications for this technology, especially for mission-critical metal parts, are impressive and imaginative, the full potential for AM has not been realized. Additionally, it is often difficult to distinguish between the hype and reality of the state of AM technologies. This course will provide attendees with an accurate depiction, including the different process types, implementations across a variety of application spaces (including sustainment and readiness), the requirements and economic realities of AM parts production, advantages & limitations, and potential concerns of AM in security.
By the end of this course:
Attendees will have the knowledge of the foundational aspects of AM necessary to make the best high-level AM decisions for their organizations.
Who Should Take this Course